YOUR 100% LOCALLY OWNED & OPERATED EMBROIDERY, CLOTHING & PROMOTIONAL PRODUCTS SUPPLIER
What Our Customers are Saying......
Great job on the hats thank you !
Cheers.
Sam B.
Hi Fiona.
I am really happy with the finished product, jerseys look fantastic, you guys did an awesome job and great customer service too!
Thanks again.
Ben S.
Great service.  Highly recommend!
Linaire
K.K.P.W
Everyone is loving the jackets.
We now have our parents wanting them.
Michelle
ADR
Got the package.
Awesome product and service as per normal.
Megan
Trax
Thanks again for the great service.
You have done a great job and the embroidery looks fantastic!
Karla
G.G
We have been using the services of U-Name-It to supply and embroider our logo onto business shirts since April 2011. We always find Bruce and Fiona extremely pleasant to deal with and their customer service is excellent. Nothing is ever too much trouble for them and we really appreciate the advice they give us. The quality of their work is fantastic and they provide regular updates on orders and often supply them earlier than estimated.
Murray & Kerryann Hall
The Pool Shop
Hi Fiona,
I just wanted to let you know that my wife and I love the polos! They came out awesome. So a big thanks to you and Bruce for a fantastic job.
We will definitely get you to make up some more for us in the future.
Thanks again to both of you,
Lee
TRWOT
Bruce and Fiona at U NAME IT have a fantastic business and it's always a pleasure to deal with them. They have great communication skills with their clients and always check the details making sure the job gets done right and well the first time. We put through many types of embroidery and nothing is too hard for them! I am always impressed with their recommendations and quality of the workmanship. I recommend any potential clients to take a step in their direction. Their business and work quality is top notch!
Millie Turkington
NZCB
We recommend U-Name-It for prompt and friendly service. 
They have always met our timeframes, are easy to deal with, and have a varied range of clothing.
The quality of the embroidery work they have done for us has always been great.
Baden Prentice
General Manager, SSL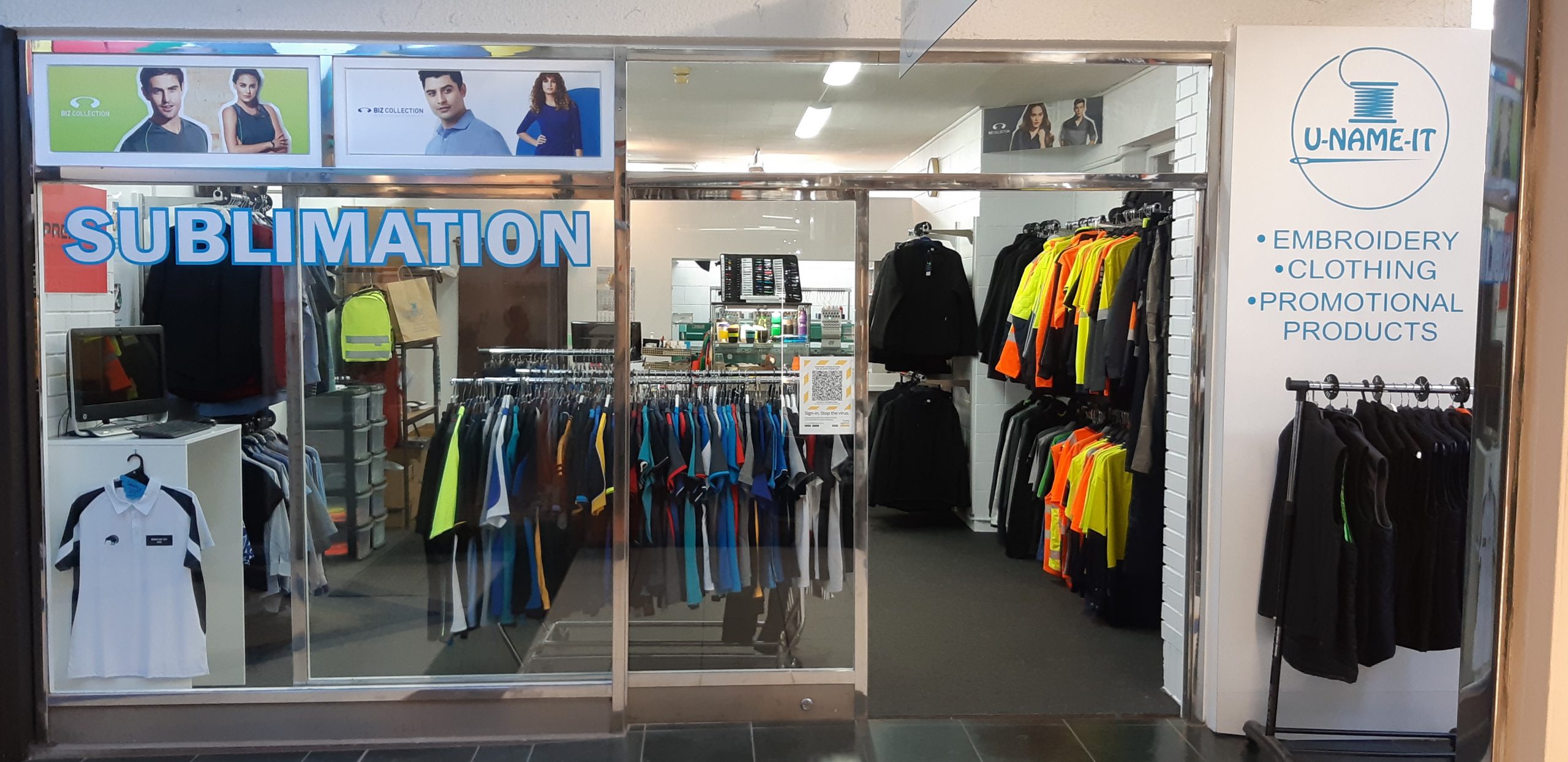 Your embroidery & branded workwear specialists
Our shop and embroidery factory is located in the Piccadilly Arcade in the heart of Tauranga City, where we supply and brand a wide range of clothing including business wear, healthcare uniforms, hi-viz clothing, workwear, caps, beanies, jackets, t-shirts, hoodies, fleeces, polo's, singlets and more!
Our business is dedicated to promoting your business. So let us help your sports or business team stand out from the crowd!
We take the hard work out of organising staff uniforms, branded safety gear and promotional products for your business.
Give us a call 07/5718318, email us or fill in our Quick Quote form, and while you're busy with your business we get busy finding the right solution for you. It's all part of what we do!
This age-old debate has been going on forever, but no matter what side of the fence you're on, it's important to understand the benefits of having a branded uniform. Imagine calling a plumber or an electrician out to your house, and he rocks up in plain clothes, looking like every other Tom, Dick or Harry […]
Read More